An author visit is always a literary highlight of the school year, and Marcus Sedgwick's talk to Year 8 was no exception. Marcus is the author of some thirty books for children and young adults, ranging from vampire tales set in Transylvania to contemporary psychological thrillers and dystopian graphic novels. With such a diverse canon to his name, it was no surprise that Marcus' talk, which encompassed the themes of his novels, was of great interest to all in attendance.
Addressing the classic question all writers are subjected to ("where do you get all your ideas from?"), Marcus took us on a virtual tour of his writing desk and workspace, which he'd assured us had been tidied up before he welcomed us in! Inviting the audience to ask about an area of his 'office' that looked particularly interesting to them, Marcus discussed how the number 354 was of particular significance to him, and its coincidental trail through his latest novel,  the psychological thriller She Is Not Invisible. As well as figuring heavily in the plot, the number 354 is also the number of pages in the book, and the blurb is written in three paragraphs of, respectively, three, five and four sentences.
Coincidence? Who can say?
Marcus also discussed how coincidence can be found in surprising places: for instance, Abraham Lincoln and John F. Kennedy had a lot more in common than being assassinated USA Presidents. He pointed out that we as humans always look for patterns in things, as can be seen in the slide of the picture below. Coincidence, and the strange, intangible feeling inside when we experience it, is a very human phenomenon.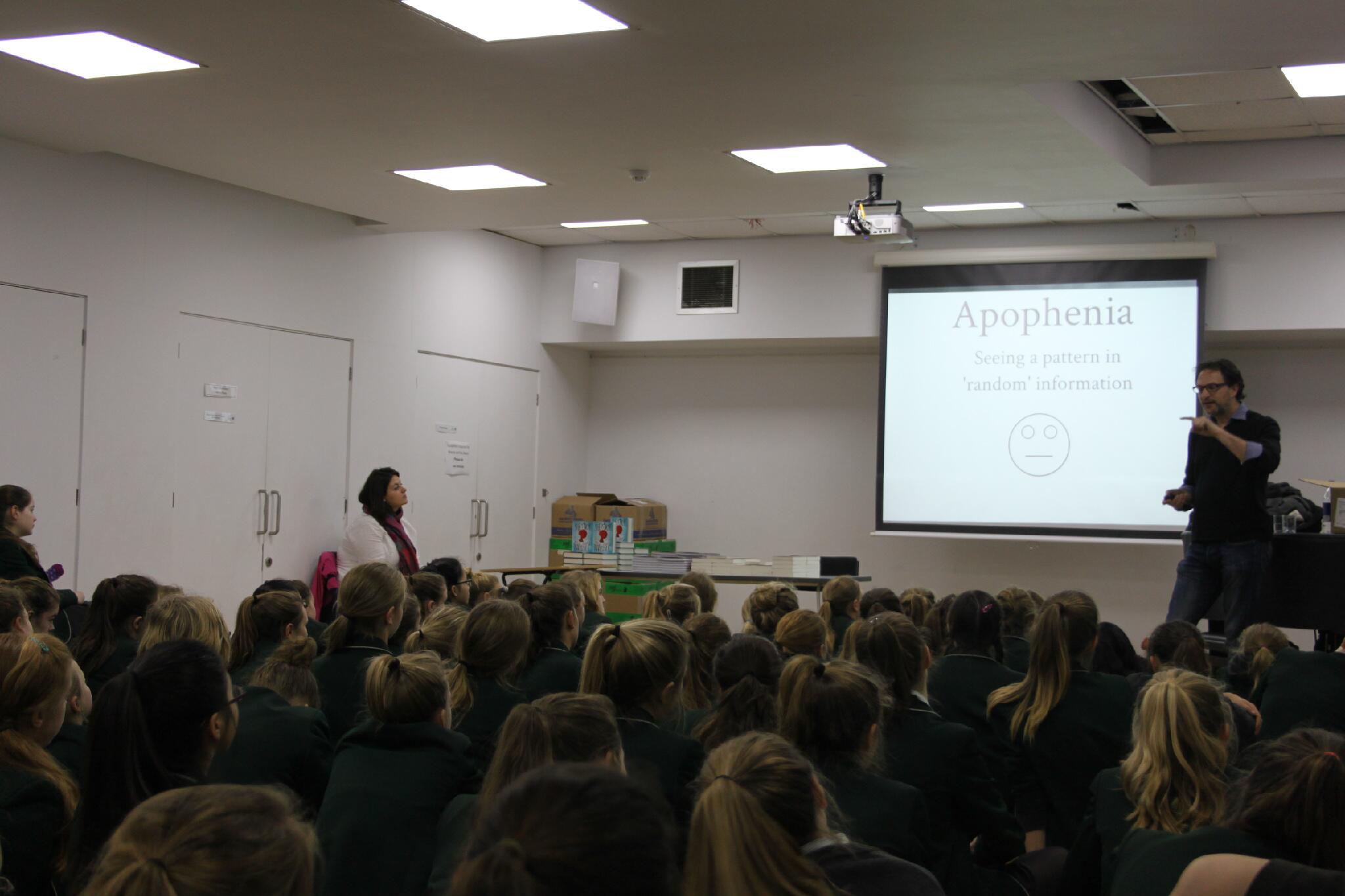 After this, Marcus talked about a real-life Romanian ritual that inspired My Swordhand is Singing, reading an extract from the book which caused the room to draw a collective breath at its conclusion, and a multitude of girls scurrying to the front of the room to get their hands on one or more of his books.
A reminder, if any was needed, that visits from talented, accomplished and inspiring authors are invaluable for firing the imagination of our students, encouraging them to undertake a journey of discovery that can only really be provided within the pages of a Very Good Book. Marcus was a big hit, and there's no doubt in my mind that we will be welcoming him back to the school in the not too distant future.